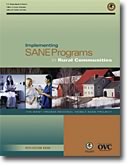 he recent proliferation of Sexual Assault Nurse Examiner (SANE) programs throughout the country represents an important advance in the quality of care provided to victims of sexual assault. These programs have grown dramatically in the past 15 years, from about 20 in 1991 to more than 500 in 2006.
1,2
Sadly, despite the many benefits they offer, SANE programs have not proliferated in rural areas as they have in or near metropolitan areas.
This replication guide highlights one region's efforts to address the difficulties of starting and sustaining SANE programs in rural areas. Under the leadership of the state sexual assault coalition, the West Virginia Foundation for Rape Information and Services (FRIS), four counties in north-central West Virginia implemented the Regional Mobile SANE Project, using on-call SANEs to serve multiple hospitals.3 This guide was developed to help other rural regions decide whether a mobile SANE project, customized to their local needs, might be a viable option. To that end, it focuses on the process used to plan and implement the West Virginia project and the lessons learned by FRIS and other stakeholders. It also provides a checklist for replicating the project and access to materials developed during its implementation.
This electronic version of Implementing SANE Programs in Rural Communities is easily navigated using the buttons on the left. Additional subpages are indicated by plus signs. Further information about the project and the author is accessed via the top navigation buttons. In addition, OVC offers a printer-friendly option as well as a more traditional print publication (NCJ 221749), which may be ordered through the National Criminal Justice Reference Service's online ordering system. Greater detail about this project can be found on www.fris.org.
NCJ 221753