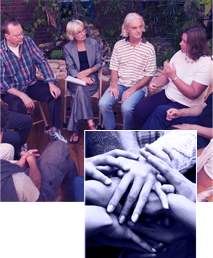 The lasting scars of spirit and faith are not so easily treated. Many victims question the faith they thought secure, or have no faith on which
to rely. Frequently, ministers and their congregations can be a source of solace that no other sector of society can provide.
-President's Task Force on Victims of Crime (1982)
Communities of faith are in a unique position to offer support to crime victims. Victims often seek comfort and spiritual guidance from religious leaders in the aftermath of crime. Religious and spiritual leaders can quickly mobilize resources and bring disparate groups together in support of victims. For example, they may extend to victims resources that were originally established for poor, disabled, and elderly members-including food pantries, clothing banks, emergency funds, meeting space, childcare, transportation, and even emergency housing.
This document summarizes how the Vermont Center for Crime Victim Services, as part of the Office for Victims of Crime's Victim Services 2000 demonstration project, built and used relationships with the faith community to improve victim services. It specifically addresses-
OVC Home | About OVC | OVC Publications | Web Site Links Disclaimer