6. Data on Co-occurring Victimizations in a Single Incident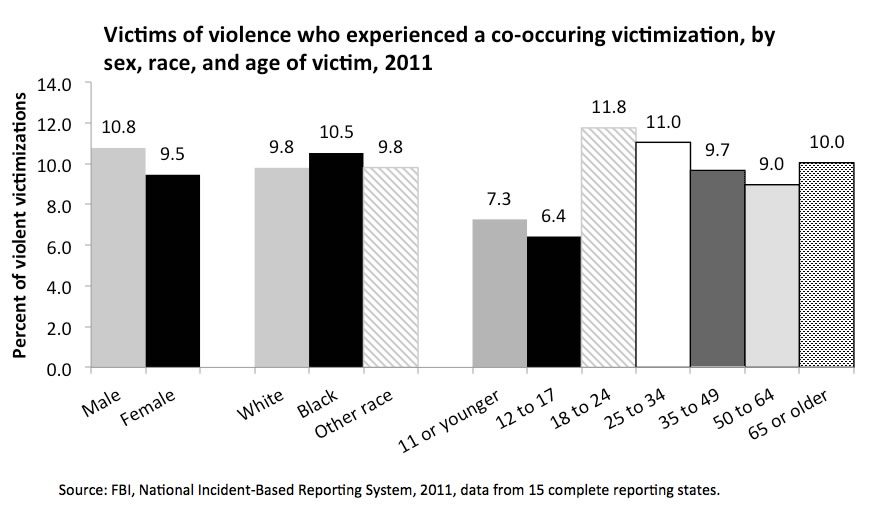 Whereas the Uniform Crime Report provides statistics on a hierarchal scale, reporting only the most serious offense committed in a single incident, NIBRS includes information about each of the offenses (up to 10) that occur within a single incident. As a result, victim service providers can use NIBRS data to identify how often and under what circumstances certain offenses occur together (e.g., robbery and rape).
The frequency with which male and female crime victims experience a co-occurring victimization is similar, as is the frequency with which whites, blacks, and victims of other races experience a co-occurring victimization. The figure above illustrates that the frequency of co-occurring victimizations is lower for juveniles than adult victims of violent crime. The frequency with which victims of violent crime experience a co-occurring offense is lowest for victims ages 12 to 17, and nearly doubles to 11.8 percent for victims between the ages of 18 and 24. Providers can enhance their services by using NIBRS data to identify incident-based poly-victims (i.e., those who are victimized by multiple types of crimes).
When law enforcement agencies report NIBRS data, community service providers and researchers can examine complex relationships in crime, victimization, and arrest practices by relying on an expanded range of variables.