8. A More Complete Picture of Crime and Victimization
Victim Offender Relationship Probabilities in an Average 1,000 Violent Sexual Assault Victimizations Known to Law Enforcement, by Offense Location, Offender Age, and Victim Age, 2011
Female victims of sexual violence age 11 or younger victimized by a—
All offenders
Intimate partner
Other family member
Friend or acquaintance
Stranger
Location: Residence
Inside
Outside
Inside
Outside
Inside
Outside
Inside
Outside
Inside
Outside
All offenders
843
157
--
--
541
50
293
97
9
10
Age
7 to 17
315
71
--
--
188
14
124
54
2
2
18 to 24
99
13
--
--
60
6
37
6
2
1
25 to 34
174
28
--
--
123
14
49
12
1
2
35 to 49
155
24
--
--
104
10
50
12
2
3
50 or older
101
20
--
--
66
6
34
12
1
2
Female victims of sexual violence age 12 to 17 victimized by a—
All offenders
Intimate partner
Other family member
Friend or acquaintance
Stranger
Location: Residence
Inside
Outside
Inside
Outside
Inside
Outside
Inside
Outside
Inside
Outside
All offenders
678
322
65
23
223
23
371
246
19
30
Age
7 to 17
170
150
28
10
34
2
106
132
3
6
18 to 24
208
84
33
11
32
3
135
61
8
8
25 to 34
107
37
3
2
42
6
57
23
5
6
35 to 49
137
33
1
0
81
9
52
18
2
6
50 or older
56
17
0
0
34
3
21
10
1
4
Female victims of sexual violence age 18 to 24 victimized by a—
All offenders
Intimate partner
Other family member
Friend or acquaintance
Stranger
Location: Residence
Inside
Outside
Inside
Outside
Inside
Outside
Inside
Outside
Inside
Outside
All offenders
635
365
88
23
74
9
424
235
50
98
Age
7 to 17
20
15
1
0
2
1
15
10
1
4
18 to 24
261
129
45
12
8
1
188
88
19
28
25 to 34
186
106
32
9
14
1
121
62
19
33
35 to 49
116
82
8
1
32
4
70
51
7
26
50 or older
52
32
1
0
17
2
30
23
4
7
Female victims of sexual violence age 25 or older victimized by a—
All offenders
Intimate partner
Other family member
Friend or acquaintance
Stranger
Location: Residence
Inside
Outside
Inside
Outside
Inside
Outside
Inside
Outside
Inside
Outside
All offenders
657
343
167
26
54
8
379
192
57
116
Age
7 to 17
10
11
0
0
3
1
4
6
3
4
18 to 24
57
35
7
2
3
0
35
15
12
19
25 to 34
186
105
56
10
8
1
105
52
18
43
35 to 49
266
114
82
11
15
3
150
67
19
34
50 or older
138
78
23
4
25
4
85
53
5
17
Note: Shaded cells indicate the locations, offender ages, and victim-offender relationships that made up at least half (50%) of the sexual assault victimizations of female victims. Detail may not sum to 100% due to rounding. "Residence" does not include incidents that occurred in a hotel or motel; "nonresidence" includes incidents that occurred in public places, commercial businesses and buildings, and locations classified as "other/unknown."
Source: Federal Bureau of Investigation, National Incident Based Reporting System, 2011.
Of the sexual violence cases reported to NIBRS in 2011, most incidents of sexual violence perpetrated against female victims occurred behind closed doors inside a residence and were committed by someone known to the victim, regardless of the victim's age. Depending on the victim's age, however, different patterns were found regarding the age of the offender and the relationship of the victim to the offender.
Among female victims of sexual violence age 11 or younger, more than half of the sexual violence occurred inside a residence and was perpetrated by a non-intimate family member or a friend or acquaintance. Offenders who perpetrated sexual violence against these young girls were often juveniles themselves, or were between the ages of 25 and 49. Older juvenile and young adult female victims of sexual assault were more likely to be victimized by a friend or acquaintance than any other type of offender, regardless of location. Offenders involved in sexual violence against female victims age 25 or older were typically older than 25. More than half of all sexual violence among females age 25 or older was perpetrated by an intimate partner or a friend or acquaintance of the victim and occurred inside a residence.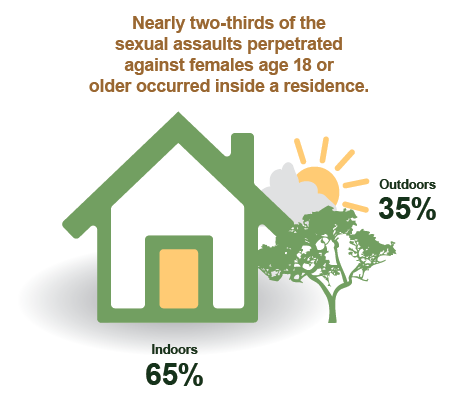 Victim service providers can use NIBRS data to identify patterns of crime and victimization that can justify the need for additional resources and guide decisions on optimal resource development.