Spurring Innovation
OVC's Vision 21: Transforming Victim Services Final Report (Final Report) highlighted the importance of innovative, cutting-edge initiatives to support victim service organizations' efforts to meet the challenges of the 21st century. Such programs and projects, many of which use advances in technology and other innovative methods to spur synergy and collaboration, enable providers to reach more victims with services that address their specific needs. In FYs 2015 and 2016, OVC supported a variety of programs that developed new ways to overcome the emerging obstacles that victims face and expand the delivery of high-quality, victim-centered services throughout the Nation.
Using Technology To Expand National and International Access to Victim Services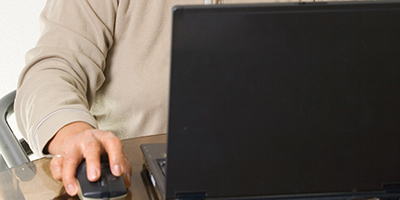 The Vision 21: Using Technology To Expand National and International Access to Victim Services program supports projects to improve assistance to victims, including information, referrals, and online and hotline services, and those that make better use of technology to improve and increase the provision of victim services. This program provides funding for nonprofit organizations that use technology creatively to interact directly with crime victims—including U.S. citizens victimized abroad—and provide them with information, referrals, crisis assistance, and longer term help.
The National Center for Victims of Crime (NCVC) is implementing the VictimConnect Resource Center, a national service that combines a traditional phone-based hotline with a web and online chat interface that provides comprehensive crime victim information, assistance, and referral services. NCVC, in partnership with the Rape, Abuse & Incest National Network, is leveraging the use of the existing high-quality technology platform in combination with NCVC's existing Connect Directory database of more than 14,000 victim services providers. NCVC conducted a soft launch of the new VictimConnect helpline in August 2015 and officially launched the finished platform for the telephone and online services in April 2016. By the end of 2016, the line already had received more than 10,000 contacts via telephone and conducted more than 1,500 chats.

The National Domestic Violence Hotline (NDVH) launched its "Broadening Engagement and Connection Through Digital Advocacy program." NDVH has strengthened its capacity by adding staff, using its interactive website in innovative ways, and improving its mobile platform to ensure that individuals in crisis who request assistance via text or online chat are able to access live support immediately. Because many victims of domestic violence do not seek help or services for a variety of reasons, NDVH is conducting a public awareness campaign that includes printed materials and an online toolkit, and using social media to spread awareness about their expanded digital services and alternative ways to get help. NDVH also used funding to expand the hours the online chat service is available, and it has seen a steady increase in the number of chats received and responded to since the expansion was put in place in October 2014. By the end of 2016, NDVH's updated web pages had received more than 3 million views, with the highest traffic coming from mobile users.

Continuation funding awarded in FY 2016 supports NDVH's efforts to improve online services and increase web traffic to loveisrespect.org. NDVH will also continue to strategize with a technology workgroup of industry experts and the National Network to End Domestic Violence (NNEDV) to expand their capacity to share technology and explore currently available technological strategies to lay the groundwork for eventual digital hand-off capability among service providers. NDVH also issued a subaward to the Abused Deaf Women's Advocacy Services (ADWAS), which operates the National Deaf Hotline (NDH) in partnership with NDVH, to provide 24/7 access to culturally and linguistically accessible advocacy and resources for the Deaf community, and to provide access to advocacy and services equitable to those available to their hearing counterparts. NDH is the only Deaf and American Sign Language victim advocacy hotline in the Nation, and 95 percent of Deaf callers to the NDH live in a state that has no Deaf-accessible domestic or sexual violence services.

The Rape, Abuse & Incest National Network (RAINN) is using OVC funding to increase the capacity of the National Sexual Assault Online Hotline (NSAH) to serve more victims. In addition to online support, NSAH also assists callers who are unable to connect to local resources by directing these phone calls to the 24/7 call center, where staff can provide a variety of crisis intervention services. During the reporting period, RAINN used OVC funding to expand its capacity to reach underserved Spanish-speaking victims by hiring 40 new NSAH staff, all of whom speak both Spanish and English. The online hotline is now staffed at all times by trained, bilingual staff who can provide culturally appropriate services and referrals in Spanish. Additionally, RAINN is expanding the Spanish-language information available on the hotline's website through a database of national and local sexual assault service providers who serve Spanish-speaking victims. By the end of 2016, NSAH had conducted 828 Spanish online sessions and the new Spanish language web content had been viewed 45,000 times. Also, in early 2016, RAINN launched the Spanish HelpRoom, La Sala de Ayuda, a confidential peer-support chat room.

In 2015, RAINN served 50,000 users—the most it had ever served in a single year—and documented a 40-percent increase in hotline sessions over the same time period in 2014. In 2016, RAINN set a new benchmark, serving nearly 60,000 survivors. RAINN continues to maintain a data management site to facilitate easy updating of its database of service providers, and is creating an application that allows other organizations and government agencies to access the expanded database at no cost.

The Identity Theft Resource Center (ITRC) retained additional staff to provide free, comprehensive information and live support via phone and other electronic methods. It also launched the ID Theft Help mobile application, or "app," which provided direct assistance to more than 10,000 victims and consumers in 2015. The app features a live chat function that enables victims and consumers to receive immediate, live, online assistance through both the app and the ITRC website. Following an awareness campaign designed to promote the app to young adults and low-income populations, traffic to the ITRC website increased 45 percent in 2015, reaching more than 600,000 visitors. In 2016, the updated website had exceeded 1.6 million page views.
The National Network to End Domestic Violence (NNEDV) is implementing the "Apoyo Tecnologico" Project ("Technology Help & Support") to provide WomensLaw services in Spanish, enhancing direct assistance to Spanish-speaking victims of domestic violence, sexual assault, and stalking by expanding the email hotline for victims, updating and adding to the Spanish-language resources on WomensLaw.org, and conducting outreach to Spanish-speaking victims and families, communities, and advocates to increase their access to services. OVC funding supports the addition of Spanish-speaking staff, a Spanish-speaking attorney, and contracted translation services. In 2016, Apoyo Tecnologico directly assisted almost 300 Spanish-speaking survivors through the email hotline and received more than 75,000 hits to its Spanish-language web resources. Continuation funding awarded in FY 2016 supports the final 3 years of the project, during which WomensLaw will update and translate additional resources and laws for different states into Spanish, in addition to continuing their direct hotline services.

The Americans Overseas Domestic Violence Crisis Center (AODVC) is expanding its services to American victims of domestic violence and stalking related to domestic violence abroad through the Sexual Assault Support & Help for Americans Abroad (SASHAA) program. AODVC operates a 24-hour international toll free hotline, website, live chat, and crisis email line that enables it to connect with hundreds of individuals traveling, studying, or living abroad through crisis communications and legal assistance. AODVC provides case management, crisis intervention, safety planning, victim advocacy services, and free counseling and legal consultations via the staff attorney and a pro-bono legal network (or paid legal consultations, when pro-bono services are unavailable). It also provides funds for victims' emergency assistance and basic needs, including discretionary cash assistance, rent, utilities, and other self-sufficiency needs overseas; and can provide "danger to safety" relocations for victims needing to relocate internationally to escape abuse by paying travel expenses, advocating for repatriation loans, and securing necessary travel documents. AODVC is expanding the visibility of its programs through the Global Safety Net Program by distributing posters and brochures nationally and internationally, conducting awareness and media campaigns, redesigning its website, and increasing its social media presence, and launching a new website and an international sexual assault database, including country-specific laws and medical and law enforcement response services.

In the second half of 2015, AODVC exchanged 6,991 crisis communications with 733 families, coordinated 156 counseling sessions for victims experiencing trauma with counseling and support services through pro-bono consultants or paid counselors, facilitated "danger to safety" relocations for 15 families, and provided funds for 15 families' emergency assistance and basic needs.
Mobile Applications for Victim Services
To receive help in the aftermath of a crime, victims need to know what services are available and how to access them. Rapid developments in technology have led more individuals to use mobile devices than ever before—88 percent of Americans have a cell phone and 57 percent have a laptop.[11] Although some victim service organizations have thoroughly integrated technology into their services, many lack the infrastructure and expertise to use technological innovations effectively. The Vision 21: Transforming Victim Services Final Report found a need for the field to address critical issues such as victims' safety, privacy, confidentiality, and security; technological advances; and the need for new and improved tools.[12] To address these findings, OVC awarded grants under the Vision 21: Victim Services Mobile Application competitive solicitation. Grantees under this program are enhancing public awareness, outreach, and education by developing apps for mobile devices that make resources and services available to victims with smartphones and personal mobile computers or "tablets." One grantee, the Family Service Association (Ohio), developed and released a mobile app to provide information, resources, systems navigation, and service access for crime victims and service providers in southeast Ohio. Another grantee, the National Network to End Domestic Violence, developed and released a mobile app focused on serving victims of domestic violence, sexual assault, and stalking, and is working to develop a Spanish version of the app.
Serving Survivors of Sexual Violence
Sexual assault crosses all socioeconomic, cultural, and geographic boundaries. Sexual assault and domestic violence are crimes that disproportionately affect women and girls in the United States. Nearly one in five women in the United States (18.3 percent) has been raped, and approximately one in four women (24.3 percent) and one in seven men (13.8 percent) have experienced severe intimate partner violence.[13] This high rate of victimization, coupled with explicit and implicit biases—including pervasive stereotypes about gender roles and survivors of sexual assault—can create barriers for survivors seeking services.
Sexual Assault Response Teams (SART) provide a well-coordinated and highly effective response to victims of sexual assault by leveraging the specialized knowledge of each team member. OVC TTAC provides a unique learning opportunity for SARTs through its Sexual Assault Response Team (SART) Interactive Scenario Training, a 2-day onsite training for teams to train together to solve a simulated crime of sexual assault, from the initial victim interview to the trial. In 2016, OVC TTAC hosted trainings in Georgia, Oklahoma, South Dakota, and Texas for nearly 150 SART members.
In partnership with the U.S. Department of Defense (DoD) Sexual Assault Prevention and Response Office, OVC developed the Advanced Military Sexual Assault Advocate Training for Sexual Assault Response Coordinators and Sexual Assault Prevention and Response (SAPR) Victim Advocates. This online training leverages OVC expertise in curriculum development with DoD's wide range of SAPR advocacy and programming. The incorporation of a victim-centered approach builds a framework that improves the quality of responses to sexual assault victims by military professionals. This dynamic training complements a military sexual assault policy that puts victims first so that they receive comprehensive care. In FY 2015, TTAC enhanced the training with policy updates and a new module on professional ethics. In FYs 2015 and 2016, nearly 4,000 individuals completed the training.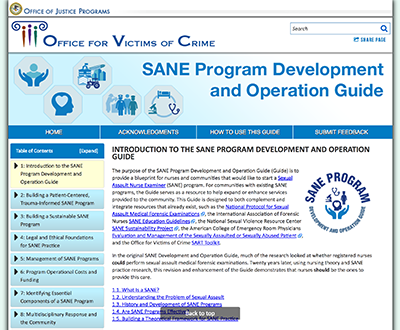 OVC TTAC released an updated SANE Program Development and Operation Guide, which serves as both a framework for nurses and communities to develop Sexual Assault Nurse Examiner (SANE) programs, and as a resource to enhance and sustain services for communities with existing programs. SANEs—registered nurses with specialized training to provide comprehensive health care, including forensic medical exams, to survivors of sexual assault—evaluate and treat patients with holistic care that addresses both the acute and long-term consequences of sexual violence victimization. The current guide serves as an update to the original publication, supported through an OVC grant and released in 1999, which provided a blueprint for hundreds of communities to develop local SANE programs. The updated guide has received more than 11,000 visits.
National Sexual Assault TeleNursing Center
Sexual assault victims require a trauma-informed approach to ensure that their needs are met. Research also suggests that using Sexual Assault Nurse Examiners (SANE) or Sexual Assault Forensic Examiners (SAFE) to conduct forensic examinations of sexual assault victims contributes to higher prosecution and conviction rates.[14] Access to SANE programs and other types of medical forensic expertise may be limited, particularly in remote areas. Telemedicine can provide care from a distance to expand access to treatment.
To facilitate the use of telemedicine to reach underserved victims of sexual assault—especially those in remote and challenging areas—OVC, with funding from the National Institute of Justice, supported the Massachusetts Department of Public Health SANE Program to establish the first national telemedicine center to provide remote, expert, SANE consultations to clinicians caring for adult and adolescent sexual assault patients. Massachusetts SANEs from the National TeleNursing Center (NTC), located at Newton Wellesley Hospital, perform telemedicine consultations during sexual assault forensic exams at six pilot sites: Twenty-Nine Palms Naval Hospital, California; Hopi Health Care Center, Arizona; Sutter Lakeside Hospital, California; Saint Anne's Hospital, Massachusetts; and MetroWest Medical Center, Massachusetts. NTC has been operational since 2014 and is currently providing real-time patient care support and ongoing training via live video interface to the six pilot sites 24 hours a day, every day of the year. The NTC practice model is in line with national protocols for sexual assault forensic exams and evidence-based research. In FY 2016, OVC awarded a grant to the Pennsylvania State University to establish the Sexual Assault Forensic Examination and Training (SAFE–T) Center, which will use telemedicine technology to enhance access to quality sexual assault forensic care for adult and adolescent victims in underserved communities.
Federal Advisory Committee
In furtherance of U.S. Department of Justice priorities to address the high rate of sexual violence in American Indian and Alaska Native (AI/AN) communities,[15] OVC established the AI/AN Sexual Assault Nurse Examiner-Sexual Assault Response Team (SANE-SART) Initiative in 2010 to address the comprehensive needs of adult and child victims of sexual violence in tribal communities. In 2011, OVC established the Federal Advisory Committee: National Coordination Committee on the AI/AN SANE–SART Initiative, comprising representatives from six national tribal organizations, five federal agencies, and experts in Alaska Native issues and medical forensics exams, which was tasked with identifying existing resources, challenges, and gaps related to sexual assault response in Indian Country. The Committee's final report presents a number of recommendations for improving the federal response to sexual assault in Indian Country. The Committee's charter ended in 2015 and culminated with six recommendations for improving federal response to sexual violence in AI/AN communities. The Attorney General accepted these recommendations in October 2015.
National Identity Theft Victims Assistance Network II
In FY 2016, OVC awarded the Identity Theft Resource Center (ITRC) with a National Identity Theft Victims Assistance Network (NITVAN II) grant to enable ITRC to provide technical expertise, assistance, and training to support coalitions that seek to improve services for all types of identity theft victims. In addition to further supporting the 10 existing NITVAN coalitions previously funded in 2010, the NITVAN II grant is helping the ITRC and OVC continue to build capacity for new and improved policy development, training, and service delivery at the local, state, and regional levels to address the needs of victims of identity theft, with additional emphasis on cybercrime.
Responding to Victims of Cyberviolence
There are formidable obstacles to investigating crimes such as stalking and cyberstalking, as technological developments outpace the capabilities of legislators, internet service providers, and electronic app developers to implement investigative strategies, mitigation practices, and victim services. Jurisdictional and privacy issues make it difficult for prosecutors and victim plaintiffs to obtain account records and user information from internet service providers. The ever-expanding use of technology and the anonymity often associated with cyberstalking and other harassment online likely will contribute to the continued increases in cybercrime.
To provide resources and training to assist victims of cyberviolence, in FY 2016, OVC launched the Vision 21: Training and Resources to Better Respond to Victims of Cyberviolence program. Through a $1.5 million award, the National Network to End Domestic Violence, in partnership with the National Council of Family and Juvenile Court Judges, is conducting the Cyberviolence Court Training Initiative (CCTI), a national-scope project to assess the cyberviolence training currently available and the training needs of judicial professionals; assess the needs of victims of cyberviolence; and develop, publish, and disseminate training and technical assistance to judicial professionals. OVC expects the project to yield an in-person curriculum and guide, an online toolkit, technology tip sheets, and training videos on cyberviolence.